Our work comprises all facets of your personal and financial life. At present, our attention is highly focused on the markets as we know this is an area you have keen interest and concern.
To gain perspective on the state of the current markets, it is helpful to review the events that brought us here. Like all of life, it is not caused by one factor, but a series of events, and very dynamic.
The State of the Markets
by David Manteau & Rich Colman
Before, during, and immediately after the COVID-19 Pandemic, the S&P 500 had positive returns especially for 2020 and 2021, given that we were in the midst of a pandemic—the likes of which had not been seen since the 1918 flu pandemic. Coronavirus led to a virtual shut-down of the global economy. The significant role played by governments across the world (and in most cases, over-played) cannot be emphasized enough.
With lessons learned from the woeful response to the 2008 Great Recession, policy makers responded to the pandemic with stimulus programs. These initiatives led to a spike in inflation, exacerbated by the disruption in supply chains. In addition, Central Banks and governments did not appreciate quickly enough the persistent inflation that would result from the initial policy design; some believed inflation would be transitory. Political doctrines such as Russia invading Ukraine, causing a drop in Russian oil on the global market, and Chinese vaccines being not as effective as Western vaccines but the Chinese government refusing to purchase Western vaccines, created a situation where the Communist Government continued with a zero-covid policy—causing entire industry sectors to cease production during the rolling shutdowns. Since China is the largest manufacturing country, the policy harmed global production, which has yet to recover. The continued shutdowns and oil-market volatility continues to this day.
The above factors brought us to the current markets, as of 10/21/2022, shown below.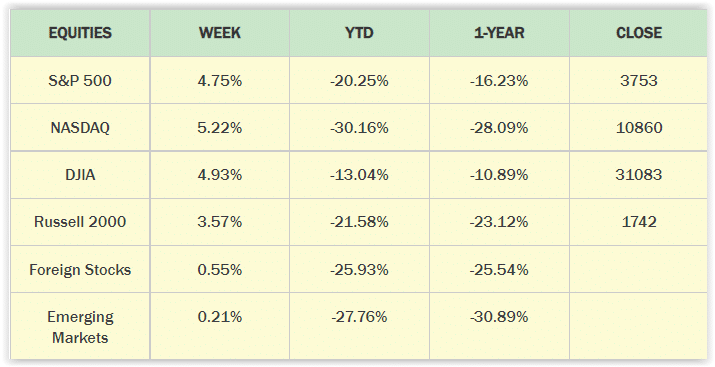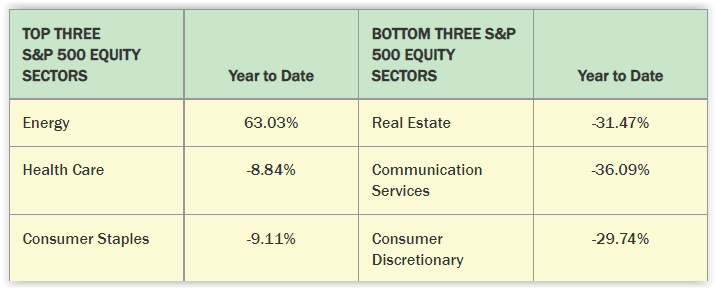 So, where do we go from here?
We recognize that we may be anchoring our portfolio performance to the more recent market highs of 2019, 2020, and 2021, and not the overall starting point of our portfolios.
We look at the earnings of companies that make up the S&P 500. Below is data going back to 2012, showing significant earnings (even for 2020). Note that the estimates for 2022 and 2023 could be revised downward because of inflation.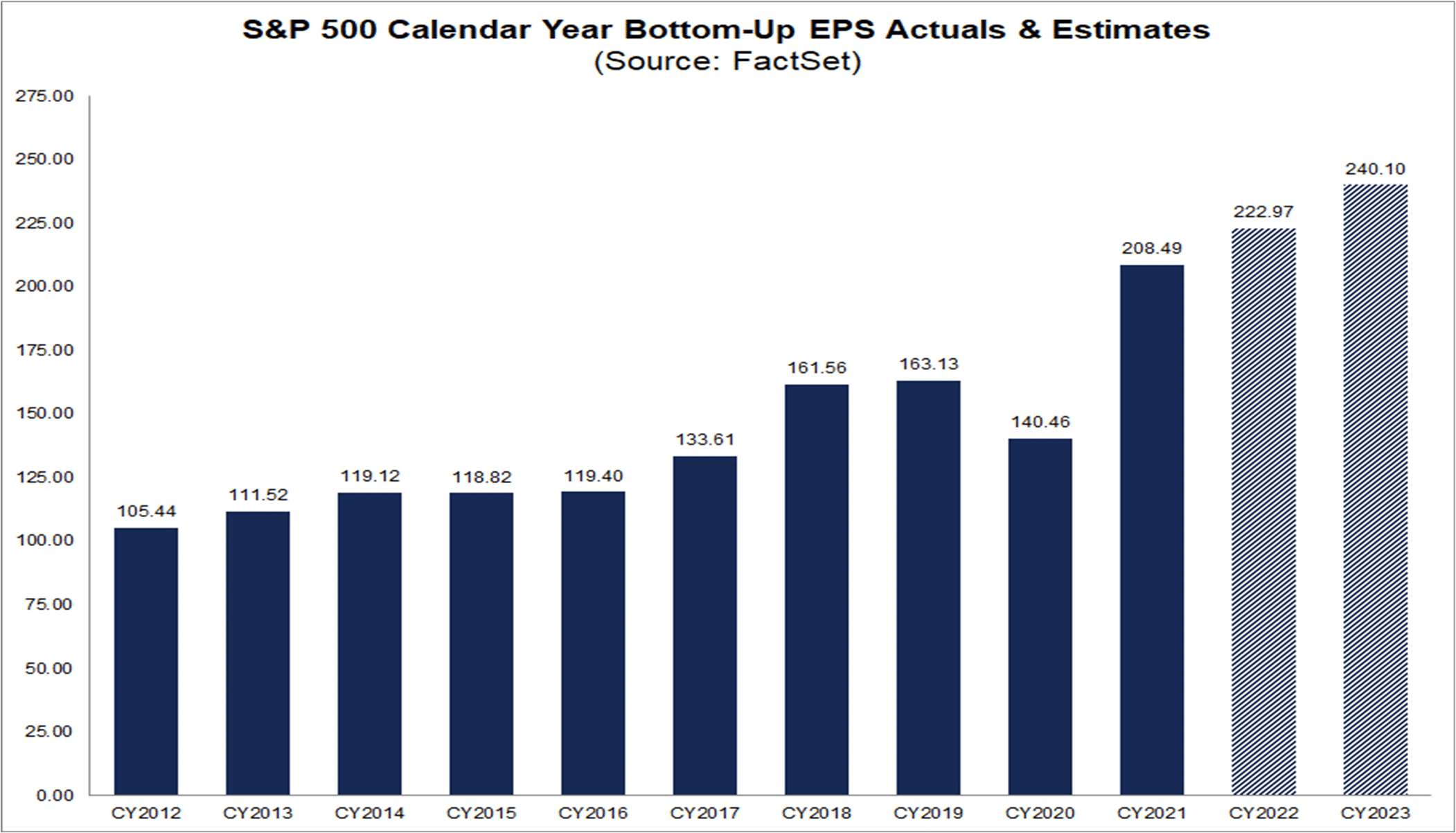 In addition, margins of these companies in the second quarter of 2022 have been in line with their 5-year averages (except energy and materials), as indicated in the chart below.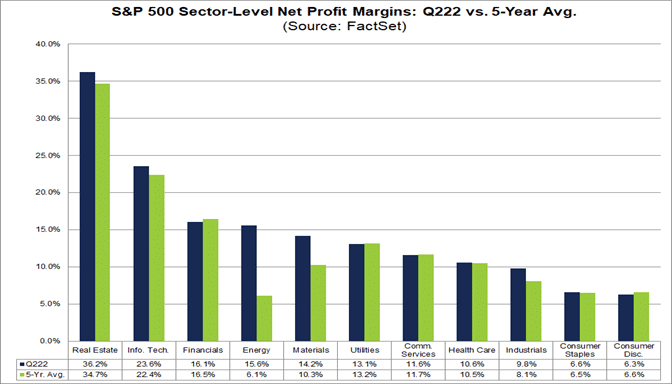 Will these margins, overall, continue to hold?
It is also important to remember that we endeavor to minimize overweighting in any one stock, and to diversify the equity portion of your portfolio among several industries and companies. This is why we use ETFs and mutual funds for most of your portfolio. Research by Hendrik Bessembinder, evaluating lifetime returns to every U.S. common stock traded on the New York and American stock exchanges and the Nasdaq (since 1926), found that just about 4% of all companies explain the historical excess performance of stocks over bonds (high level). Very often those 4% super performers are only identifiable after their run up!
Another factor to consider is the federal reserve has a median projection for the fed funds rate to be at 4.4% in 2022, 4.6% in 2023, 3.9% in 2024, and 2.9% in 2025. This means we're a long way from high rates. Of course, the Fed is continuing to monitor data and may make adjustments.
We review the current market Shiller Cyclically Adjusted Price to Earnings (CAPE) Ratio. Fundamentally, a high ratio indicates stocks are expensive, meaning returns for buying now may be relatively lower. This ratio has a historical average between 15 – 16. When you compare the historical average to the current ratio of (28), the conclusion is stocks are expensive. We pay close attention to the direction.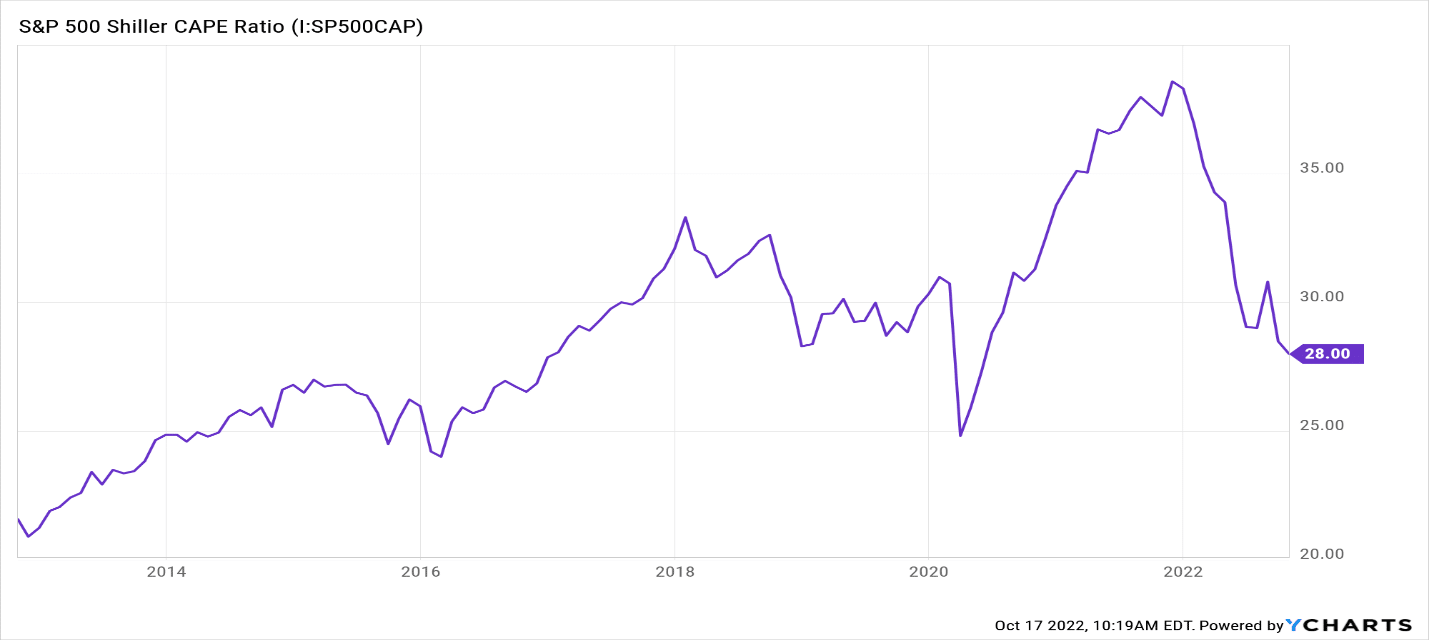 A contradictory ratio, called the Excess CAPE Yield, is an adjustment to the CAPE ratio to account for the affect of long-term interest rates and inflation. This metric has a long-term average of 4.67. By this counter measure, you may conclude that stocks may be slightly underpriced.