About Emily Thomas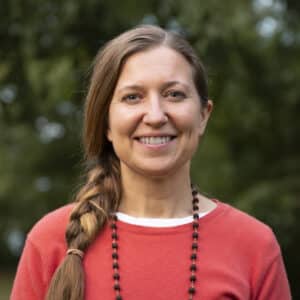 Emily Thomas serves as the connoisseur of Client Communications for Colman Knight, connecting with clients, prospective clients, and extending outreach for those who could benefit from our integral wealth and Somatic Finance view and approach to financial planning. Emily is a natural empath who respects and recognizes the imperative for authentic communication, clear design, and caring connections.
Originally from Exeter, New Hampshire, Emily graduated from Phillips Exeter Academy and Middlebury College, with a major in Spanish and a concentration in bilingual elementary education. Immediately after college she followed her passion for service and exploration and worked with the humanitarian organization Embracing the World, based in Kerala, India. For twelve years, she engaged in worldwide fundraising and retreat tours. While managing the demands of large groups, she learned organization, leadership, listening, patience, stamina, and the power of an open heart to surpass perceived limitations.
Emily met Colman Knight in 2011, originally filling an interim administrative assistant position. Experiencing an alignment of perspective and integrity with Gayle and Rich, the relationship continued in evolving forms, including remote editing work while Emily lived and worked in India for five years.
Returned and re-settled in New England and engaged to be married, Emily thrives in the expanding integral and service-oriented work of Colman Knight. In her free time, she explores woodland trails on her mountain bike and writes with the trees.