The Colman Knight Integral Wealth Journey
We are so happy to welcome you.
Colman Knight's clients are varied, and include business owners, couples with children (young and launched), retired, changing careers, recently-widowed, inheritors, and new graduates. Their portfolios and financial issues are also varied, and range from relatively simple to satisfyingly complex. The common thread of our clients is their desire to integrate their money with their lives to create true wealth.
In a carefully-honed structure, full of wisdom and care, we guide clients through the complexity of their finances. For some clients it is hundreds of thousands of dollars, for others we manage many millions of dollars. Our clients—their lives and stories, their hopes and dreams, their challenges and potentials, their children and grandchildren— become part of our lives. Our clients are not 'the Smith portfolio,' our clients are known by their first name and the deep aspirations they willingly share.
The First 3-6 Months
What to expect
The following Infographic illustrates the potential flow of meetings in the first three-to-six months of your initial engagement. The flow and timeline is flexible according to your needs. During your introductory call with us, these steps are explained for your clarity and comfort.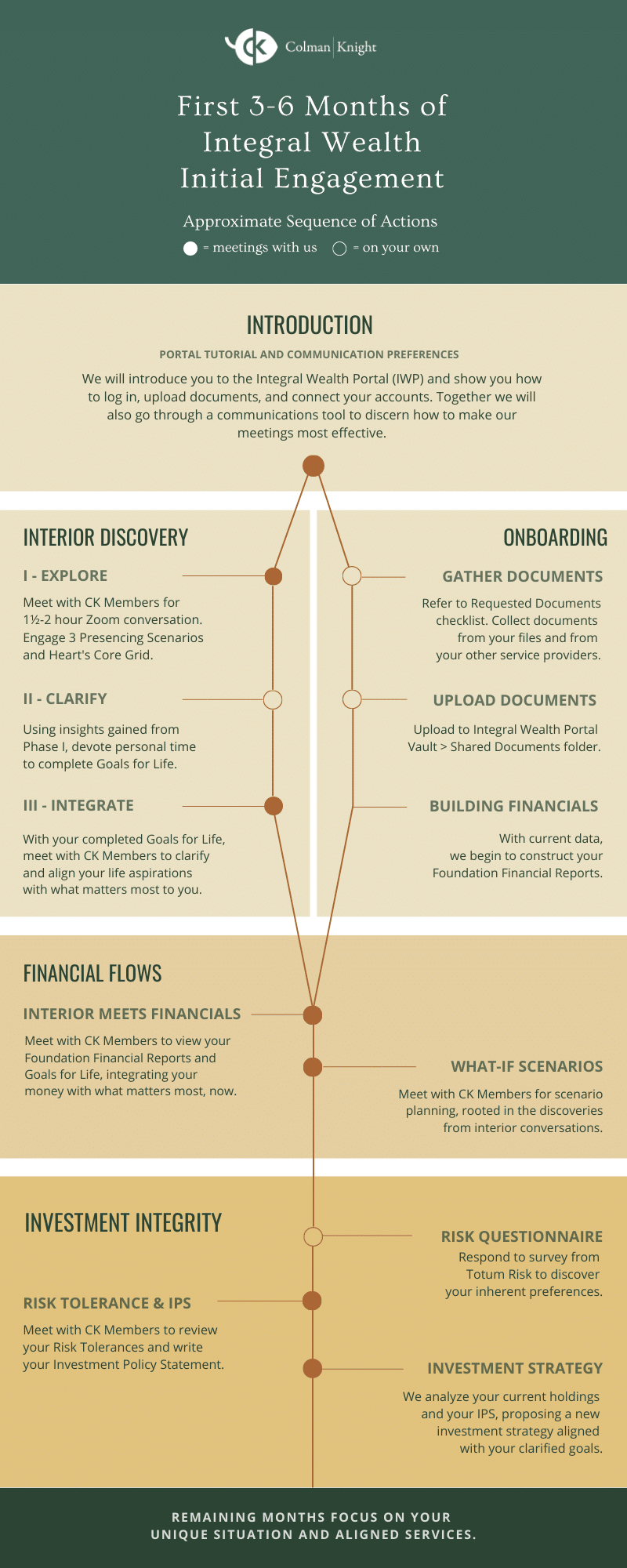 Getting Started
Establish Your Integral Wealth Portal
(Your very own financial website)
The Integral Wealth Portal (IWP) is a robust resource for planning, financial tracking and unlimited electronic file storage. It provides a secure method of sharing documents and data between us. Therefore, a first priority in our work together is collecting your important and relevant information.
Your introductory meeting will activate your Integral Wealth Portal (IWP) connections, attend to needed documents, and discuss your communication preferences.
Among the tabs within your site, you will see the "Vault," where documents are stored.
The "Shared Documents" folder is where you will upload files for us to view. We move these documents out of this folder and organize them in the other folders.
The "My Private Documents" folder is yours for unlimited, private storage. We cannot view the documents in this folder.
The other folders with the following labels store documents related to our work together:
Financial Flows – Income, expenses, and personalized financial reports.
Investment Integrity – Documents pertaining to your investment path.
Life Legacy – Estate planning documents.
Practical Protection – Insurance documents.
Administrative – Agreements, Meeting Notes, Invoices & Legal Disclosures.
Strategic Stewardship – Interior Discovery.
Taxes – Organized by year.
Step-by-step instructions for how to connect your accounts are linked here: Integral Wealth Portal – Adding Accounts.
Other IWP instructional guides are located here: https://colmanknight.com/integral-wealth-portal/.
View the Security Brief to confirm your confidence in the security of your data on this website.
Our CK Team
Get to know the members of Colman Knight. See our About Us page for another introduction to all of the Colman Knight members, with whom you will have the opportunity to connect, and work together on your stated objectives. We look forward to a deeper connection with you and assisting your progress toward your goals.

We ask that our clients:
Have an interest in long-term success and growth.

Choose to learn, grow, and take action.

Be open to investments and ideas that support values and life goals.
We commit to our clients:
To honor your trust with impeccable service, combines, care, expertise, and wisdom.

To hold allegiance to your goals and your trust, rather than to any company, product, or service

To be a Fiduciary, treating your resources with the highest care and prudence.

To listen generously with support for your dreams and ways to navigate your fears.

To maintain our relationship and services in the strictest confidence.

To partner with you as you create a fulfilling dynamic life.
Speak with an Integral Wealth Advisor
No matter your life stage, our advisors are here to help you navigate your unique financial landscape. Schedule a call. We look forward to meeting you.