Breaking down Estate Planning —
or as we say at Colman Knight:
Life Legacy
Why do we say Life Legacy?
Estate planning—the words—is too small for us and the beauty, blessing and bounty of our human life. The container of documents in our rules, regulations and practice legal system is a necessary yet narrow part of what flourishes within the words and instructions.
We say Life Legacy to coax you beyond the requirements and into your life a bit deeper, a smidgeon wider. Because, the truth is—you are living your legacy, right now.
Life Legacy points us to both the practical important papers that ask to be documented… for you and for the people, places and situations you love. And, Life Legacy points to a tender awareness that our lives are short and temporary, that we are living each day a legacy of life as we breathe, walk, eat and kiss.
How does the legacy you imagine after your body becomes a corpse match your actions and choices while your body breathes?
Yes, let's understand these documents, why they are important and be responsible to current laws. But please don't miss the connection to your precious life, and the bigger view of your infinite wealthy life.
---
Life Legacy Planning
Who needs an estate plan?
Anyone with assets, or dependents, needs an estate plan. Without a clear, up-to-date and properly-executed plan, families will likely meet conflict as they try to guess your wishes while in a state of grief.
A complete estate plan will maximize the likelihood that your assets go to whom you want, when you want, while minimizing the erosion or loss of those assets by taxes, legal fees, and court costs. A good estate plan will also take into consideration your relationships with your children and other beneficiaries, and THEIR relationships with each other. A thoughtful estate plan probably can't fix old family hurts, but it is worth trying to be mindful to avoid making them worse.
Without a clear up-to-date estate plan, the estate system uses the fallback to intestacy. Many of the intestacy laws, rules and regulations make more sense in the 19th century than in the current 21st century. The notice rules etc., pre-date telephones, much less the internet. Most often, when there is ambiguity, the laws and rules of the 19th century appear to prevail. That means high legal fees, high court costs, and possibly estate taxes.
What is an estate plan?
An estate plan dictates what will happen to your assets when you pass, ensuring that your wishes and intentions are carried out and your assets will be passed to your chosen people and organizations. Today's world has complicated estate planning, because different assets have different rules controlling how and when they go to other people.
It's not like the olden days, when you could write a Will that said "I leave everything to my oldest daughter." Then, the lawyer and the probate court would help your Executor re-title everything in your oldest daughter's name: the farmland and all the buildings on the land (real estate), the horses, wagons, and plows (tangible personal property), the farm's bank account at First Planters and Harvesters Bank, your famous line of jams and jellies, "Real Yummy Farm©", the lease on the forty acres on your neighbor's farm, and the right to harvest the corn you planted there (all this last stuff is called "intangible personal property" by lawyers).
Today, you're more likely to own a 401k retirement account or an IRA, a taxable brokerage account, and a life insurance policy, than a farm. All these sorts of financial assets (still "intangible personal property") are governed by a contract with the retirement custodian, bank, or insurance company. That contract contains a "beneficiary designation" that you filled out when you opened the account or bought the policy, and (usually) can change at any time.
It's important to understand that the rules in a Will or a Trust do not magically supersede beneficiary designations or joint titling. The rules of your trust only control a life insurance policy if the trust OWNS that policy, or is the designated beneficiary on the policy.
Therefore, complete estate planning means not only having the typical set of lawyer-generated documents (trust, will, powers of attorney) but looking at EACH ASSET, determining what rules apply to it, deciding if that's what you want for that asset, and changing the rules if it's not.
When is it the appropriate time to review your estate plan?
Families and financial realities are continuously evolving.
Colman Knight is taking an active approach to look at the legal documents in client estate plans at least once every three years. As such, soon we will communicate to clients with a list of the documents we have, and encouraging you to identify and collect any others you may have.
The best action clients can do now is to track down all estate documents and collect them for easy upload to the portal or drop off at the office.
Colman Knight Life Legacy Review
We review your documents and create a summary that clarifies the pathways of each asset of your estate, as currently stated. We review the summary and document contents with you, to verify your understanding and the documents' accuracy with your current wishes.
Estate Documents, defined:
Health Care Directive in MA (Advance Directive in other states) — This document is often composed of two SEPARATE documents:
Health Care Proxy in MA (Healthcare Power of Attorney in other states) — Delegates authority to make decisions about your healthcare to someone else, if you can't make them yourself.
Living Will — A statement of wishes at end of life.
General Durable Power of Attorney (aka Financial/Legal Power of Attorney) — Like the healthcare power of attorney, this document delegates decision-making authority to someone else in the event of your incapacity, but for decisions relating to legal and financial matters (unless it's about an asset inside a trust, in which case the rules in the trust agreement say who gets to make decisions about that asset and the scope of their authority.)
Trust — This is a legal "bucket" with written rules. Anything inside the bucket is controlled by the rules, which usually include, at minimum, who controls the contents of the bucket when you can't (your successor "Trustee"), who gets the contents of the bucket when you die (your "beneficiaries"), and what conditions must be fulfilled before they get those contents (for example, if beneficiaries are your children or grandchildren, they might need to reach a certain age).
Will — A set of instructions for who should get your stuff when you die, and naming an "executor" to execute those instructions. All Wills have to be administered through a state probate court, usually with the assistance of a lawyer. It is also almost always the case that the heirs you name in your Will get everything as soon as they are over eighteen years of age — which might not be what you want!
Ethical Will — A Letter to your Loved Ones—an opportunity to provide depth and emotion around the momentous occasion of your death, when the rules set forth in dry legal documents can leave family members feeling hungry for meaning, or worse. [For more on ethical wills, see CK News Dec. 2021]
General Powers of Attorney for other people — Your parent may have named you agent or "POA" to make decisions for them.
Anyone for whom you are acting as a Guardian/ Trustee/ Conservator/ Personal Representative.
We look forward to activating the Life Legacy Review for rotating batches of clients. Please let us know if you are particularly eager to engage your review.
---
"I can only go as far
with my clients
as I have gone with myself"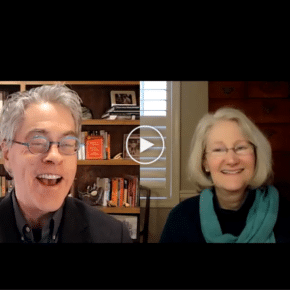 In this fun conversation, Gayle Colman and financial planning professional and author Rick Kahler discuss the importance of personal development, experience and embodiment when working in the helping professions.
We must be our first students, always.
We must be consumers of what we deliver.
We practice to embody the knowledge (content) and the wisdom (living teachings).
We develop new muscles – seen and unseen – strong enough to hold others.
May we all generously learn and grow for the benefit of all beings, including ourselves.
Please click the image to view the video.
To read the whole story of Gayle and Rick's history with the title quote, see: https://somaticfinance.com/i-can-only-go-as-far-with-my-clients-as-i-have-gone-with-myself/